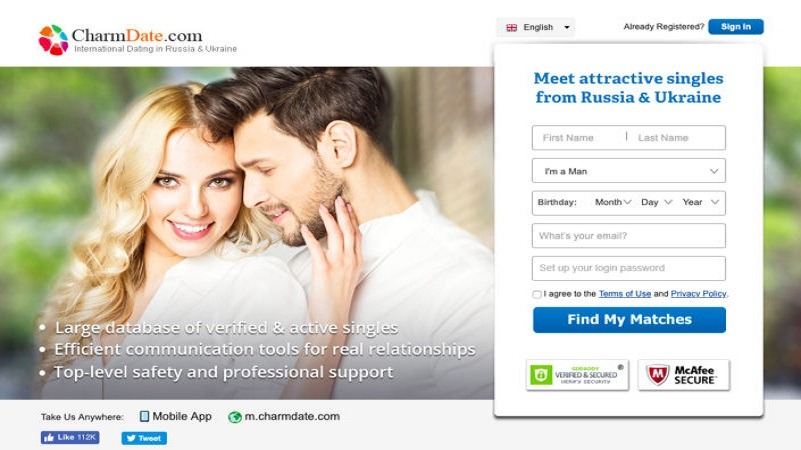 CharmDate.com Reviews. There is no doubt that Charm Date Reviews is one of the oldest running dating sites today. It has been around since 1998, helping millions find their ideal partners and create lasting relationships.
The site is owned by the cupid Network, a company that runs a number of niche dating sites like AsiaMe, LatamDate.com, and ChnLove.com. Just like these sites, CharmDate has a specific target market. It is said to be one of the most popular online dating sites that allow men from across the world to meet and match with gorgeous Ukrainian and Russian women. It is also known for being a foreign marriage website where people find love.

Local Dating Agencies – CharmDate.com
In Charm Date's own descriptions of its services. It says that they rely on a "huge network of local dating agencies all across" Russia and Ukraine. When I dug a little bit deeper into this issue, it became apparent that this means many of the women are part of large, shady schemes to make money off of foreigners.
RELATED ARTICLE: EliteSingles.com
Frequently Asked Questions
How to edit profile details on CharmDate.com?
Go to the profile section and where you can edit your details. But you cannot change your name, date of birth, residence country, and current relationship status. If you want to change these you can contact with Charmdate support team.
What about online security on CharmDate.com?
Charmdate takes online security and privacy very seriously. The most innovative and cutting-edge technology to ensure registration and usage is under a high level of security and protection. Online data processing and payment systems are protected by GoDaddy and McAfee, leading authorities in online security. The processing services used by the site is verified by Visa and MasterCard SecureCode.
How to search members on CharmDate.com?
To search for a member in CharmDate, you can use the options listed below:
Quick Search
Advanced Search
Member ID
New Members - click on the Newest Members link in the photo gallery section to view members who have recently joined the site.
Members Online Now
How much do the services in CharmDate.com cost?
These are the list of pay-to-use services:
EMF Mail - 1 credit each read and send
Live Chat - 0.5 credits per five minutes (for text-only with one-way video chat). Emojis, stickers, and photos cost additional credits.
CamShare - 0.6 credits per minute
Call Service - 1 credit per minute
Gifts and Flowers - prices are listed on the site.
What is Call me to feature in CharmDate.com?
With this feature, you can authorize your contacts to call you. It's free to make an authorization but for the call itself, you will have to pay it. Your contact can then call you during your specified time.
What are Special Features in CharmDate.com?
CharmDate has a lot of innovative ways to let you communicate with people you like.
Admirer Mail
Live Chat
CamShare
Call Service
Gifts and Flowers
Virtual Gifts
What payment methods are accepted on CharmDate.com?
To purchase credits, you can use credit or debit cards including Visa, MasterCard, American Express, and Discover Cards. All credit card information that has been submitted on the site is encrypted and highly secured.
How do I know the members on CharmDate are real people?
All the lady profiles are verified. That means they have submitted a copy of their personal identification document with their photo.
Is CharmDate.com expensive?
In comparison to other providers, CharmDate is upper-moderate.
How do I delete my account on CharmDate.com?
Like other online dating sites, it is difficult to remove the account. To delete your account on CharmDate firstly you need to remove your images, profile details, etc. And then send a request to the Charmdate support team to delete your account.
Phone Number: +1 800-931-5079
Address: 71-75 Shelton Street,
London Asia, WC2H, GB
Reviews
DO NOT join!
DO NOT join! False Advertising and HORRIBLE Customer Service! Save your money. Much more reputable sites out there. Quick to take your money but very very ignorant when it comes to assisting the customer. Again,..Beware!!
Horrible experience
I used this site many years ago and l'm very disappointed this time. Waste of money. Not worth it. They want to charge you for everything. You can't even put the picture you want on as your profile. Horrible experience.
Again, didn't feel safe
They cannot be responsible for what people post but their overall caliber of people is somewhat risky. They say one thing one time and something different next time. Never felt safe. When I tried to block someone it did not always work and if it did it took a few days. Again, didn't feel safe.
The site is a joke!
After clicking w/ a very charming apparently "normal" guy for a couple of hrs, our conversation poof! Disappeared…twice! We were never able to reconnect. Then, I wasn't even able to post my pictures or contact someone either via telephone or email. The site is a joke!
Cheaply designed should be unlawful!
This is a terrible site. Can't personalize your own profile, the search option is a joke, I get men & women who may or may not be actual people. And the very few who are a match are several hundred miles away. I asked for a refund after a couple days of actually using the site and they refused. Also paying 6 months for anything this cheaply designed should be unlawful!.
It is the worst ever
How and where does someone report these people? I signed on never imagining a dating site could be so bad. They send you matches from thousands of miles away, I don't even think the people exist mostly that they send you, half have no pictures, you cannot search yourself. It is the worst ever
Their customer service is poor
Too many people contacted me that live hours or states away despite the 30 mile radius I set. Their customer service is poor. No one called or emailed back when I expressed my concerns. They'll take your money up front fro 3 months with no refunds possible, even after you are given a poor quality service. Don't do it!
Rubbish don't pay the money
I joined the site To meet someone nice. All them and asked me my breast size, or were full of promises. One guy really likes sent me messages and songs. I rather fell for him but when my daughter ran him through the black dark web, turns out he was a complete scammer and fraud. I would not recommend this site to anyone it's rubbish don't pay the money
Lot of scammers
Lot of scammers. Including them… many charges not justified. Hard to understand thier cancelation and how to add services. They trick you with wording.
Stay away
Stay away. They are dirty rotten company with no morals or ethics that obviously have slave labor deceiving customers! BIG FAT WARNING!!!!
My account was blocked
I tried to log in to my account a few days ago and suddenly my account has been blocked for violating "community guidelines" or "terms and conditions" which I then re-read to double check and I did not violate any of these policies. I then proceeded to contact customer service to try and rectify the problem to which I received a very vague answer. My account was blocked for no apparent reason, I have read everything over and over again and my account did not violate any guidelines or etc. 10/10 WOULD NOT RECOMMEND.
Bad is honestly a compliment
Bad is honestly a compliment. Its your money and more importantly your time. I wish all the best, I believe you may need it. Ive been told many times im easy on the eyes so I wouldn't think to have such a horrible experience.. I actually recieved over a 100 wanna meets in the first 2 weeks. I messaged about 10-12 women. I was met back with crickets that was my better experience, because the two I did receive back had me wondering if I was in the twilight zone app. Absolutely off the wall replies, like it was meant for someone else. Never answered one of my questions,had very little and random things to say. I'm thinking they have general messages they use to send people its gotta be as its the most logical thing I can come up with. And I'm supposedly attractive, l so to any guys reading pay this no mind trust me its not you.
I highly recommend you to save.
I highly recommend you to save.
Don't go to this site.
Once they have your money, they don't care. If you want a dating site, don't go to this site.
I read a lot of reviews
I read a lot of reviews here about fake profils on this website. Yes, I have been contacted by many "girls" who's profile picture includes a phone number with the message "Text me". I always reported them and blocked them and had no problem.
I am glad I rejoined
I hope this will be the one I grow old with… I am glad I rejoined this website for three weeks.He is a kind, thoughtful &, smart man. He is open, honest, and we have a great deal in common.
It's an complete scam!
Run far away from this one it's an complete scam!
Keep your money TOTAL SCAM
Keep your money TOTAL SCAM
They are Fraudulent
Save your money and time. They are Fraudulent and scam you.
Filled with fake profiles
Blocked me on facebook and customer service refuses to even answer me now. Filled with fake profiles to "like you" so you will sign up and never hear from them.
Using this site for a very long time
Using this site has helped me to find partners nearby that I never would have met usually and I can see myself using this site for a very long time.
I'm the happiest
After almost 12 mths of searching on here,- many coffee dates and chatting with potential partners, I almost gave up on love. After meeting many women and finding no spark between us, I was close to quitting and then I came across this lovely girl, who says, she looking for love! We exchanged messages and now we are inseparable, in love and committing to each other forever. I didn't give up and now I'm the happiest I've ever been.
You see a lot of people
Supposed to be easy to use, its like tinder. You see a lot of people that are doubles etc. The variety of people are limited. Some the opposite of what I selected.
Happy with the outcome
All good. Happy with the outcome. Easy to use. Though seemed a lot of the ladies were perhaps just looking for frequent dates and not so interested in long term relationships. I was lucky I that I found a very special one
It is very nice site
It is very nice site i am personally used it from few months and very satisfied with it..Here u met new people and make new friends easily…So go for it..Thanx
Very good way to meet
Very good way to meet new people and maybe new beginings
The website is one of the best out there
The website is one of the best out there. I love everything about it. The site looks simple, yet it has a lot of great little details in terms of functionality that help users quickly search for people who they may match with. In general, this site is a great place to make friends and maybe even find a romantic endeavor.
Really best site
We first starting exchanging messages back and forth and for a while we stopped. I honestly thought that would be the end of it. So when we resume our chat we took things more seriously and agreed to personally meet. We liked each other instantly and decided to take it from there.
This entire website is easy to use
This entire website is easy to use and navigate through without any complication whatsoever. The mobile app that this site offers allows you to find matches for hookups on the go.
Be patient and have fun
I was about to give up on this and other dating sites. Kept with it though and in a couple of days I met someone. It takes some time, so be patient and have fun with the search process.
I'd definitely recommend this site
I met an amazing girl off this site. She is everything I've wanted and more. I'd definitely recommend this site for love. My advice is talk an little but to all who message you, when Miss. RIGHT shows up, you'll feel it.
Very happy with outcome
Very happy with outcome, I joined couple years ago, within the first month I found the love of my life. Five years later still going strong, planning our destination wedding for 2020!!!!
I had to cancel my credit card
There's no way to contact anyone to file a complaint so I had to cancel my credit card so they wouldn't steal anymore of my money.
They have a no refund policy
They have a no refund policy. So be careful people. Don't waste your time an money. This site has to be borderline fraud
Money wasted on this app
Money wasted on this app. People are imposed on me, people appear online when they are Not, i actually tried it with a good friend of mine.
It sucks!
Men on here, are very shallow. They are all looking for a skinny pretty model type. They are rude and disrespectful. Don't use this site. It sucks!
Very disappointed.
I am new to the area that I live and trying to find people around me. Even though I continually try to make my range settings smaller and smaller it doesn't change a thing. I still get people from hours away. Also, unless you pay for premium services they don't show everyone in your area. Very disappointed.
A total waste of time and money.
They constantly sent me profiles that were outside of the parameters I set. That is, they sent profiles that were older and younger than my age ranges; profiles that lived further than my distance parameter; profiles that were not at all in line with the physical traits I was interested in. A total waste of time and money.
It is a big useless site
It is a big useless site.When I created the profile with photos then all of a sudden I got 7 quick messages. After taking subscription came to know that all messages are from bots. Don't trust
Horrible
Horrible. Only liars, players, and ex cons on this site. To top it all off, I can't get into my account to have it deleted. Been waiting 2 days for a response to my email.
No I no longer recommend CharmDate.com
No I no longer recommend CharmDate.com
My account was hacked
Do not do business with these people. My account was hacked, I contacted them immediately and many time after asking for help, they ignored my requests, eventually got in touch with me after 2 weeks demanding payment for assistance. They are in this for your money. Do not join, there are many reputable dating sites out there. These self serving tossers are not one of them