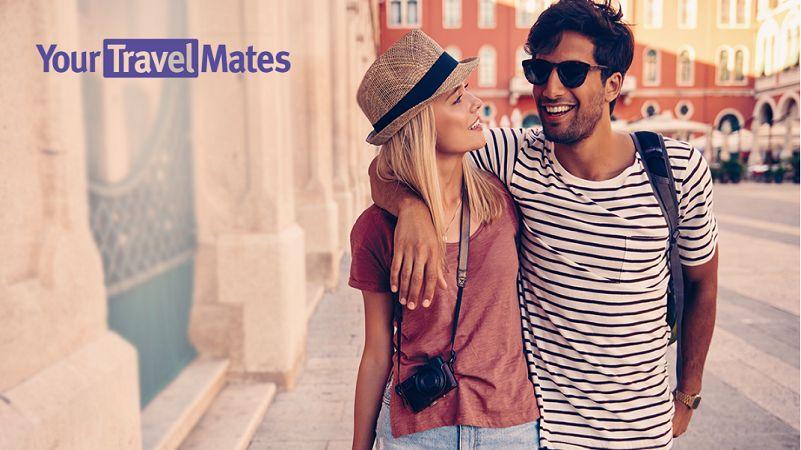 Do you consider yourself a travel freak? What do you feel like not even a single friend or relative is there who can understand your passion and support you? Do you want to have the feeling when someone is there with you and sharing the same interest while traveling? If yes, Yourtravelmates.com is the platform especially developed for all travel enthusiasts out there.
It might appear to be a dating platform, but the concept is whole new different, and you just need to understand it. Here we will be going to share the Yourtravelmates.com review to make things more clear for you.
About YourTravelMates.com Platform:
Yourtravelmates is a platform that was launched back in 1993 for all those people who want to connect with people having the same interest. Basically, for all the travelers, it is a community where they can discover multiple places, plan trips and have a travel buddy available to them. On this portal, a user will be able to share their memorable moments and contribute to the travel community. Also in case, they are looking forward to finding someone who is interested in traveling and helping them to gather information about the local place, they can connect with them. It motivates and inspires travelers to have trips and have some recommendations as well from other travelers around. They can find out about the travel business and get an idea whether they are interested in traveling with you or not.
How Does YourTravelMates.com Portal Works?
Yourtravelmates.com portal will be going to be a dating portal for you. You might feel like how you can connect traveling with dating, but this is the truth. The developers let you connect with people over the globe and help you to get an answer whether they are interested in traveling or not. In case you are not a travel enthusiast at that moment as well, you can make your account and engage with people across the globe. They will help you in understanding their interest and make you feel occupied as well. There will be no need for you to feel lonely anymore at all.

Some people have the habit where they want to communicate with people but don't want it to happen in real life. At that time, they consider a digital platform to have it. By keeping the same in mind, this Yourtravelmates.com portal comes into consideration, and people consider it as a dating portal. It serves you with Global dating, which clearly means that there will be no need for you to step outside and start knowing someone personally. You can create your account and enjoy it.
How to Perform the Registration?
When you are looking forward to performing the registration, the steps are quite simple to follow. These are what we are providing:-
At the very first, you need to visit the official website of
Now on the main page, hit on the Create an Account
When you hit on it, a new page will appear where it will ask for performing the login, and you can perform the login with the help of a Google account.
It will ask for Google account details, mention the same.
Now you can simply complete the further procedure and enjoy sharing your experience with others and find out your travel buddies.
Note: It is important for an individual to be sure about the terms and conditions of the portal because in case they have missed on to it, the developers will terminate the account, and then they need to forget about online dating and sharing travel experiences here.
Is it Safe to Use YourTravelMates.com?
There is no doubt this portal is safe to use. The developers keep an eye on every posted content and the profiles created. Without verifying the profile, they do not allow the individual to post about their experience. Moreover, in case someone has created any trouble or let the developers feel anxious about their activities, they terminate their account immediately.
This portal doesn't allow anyone to peep into the privacy of other individuals until and unless they want. If you are ready to share your information with others, then only information will be shared; otherwise, there will be no such trouble in any case.
Is it Free to Use the Portal?
Yourtravelmates.com is a portal free to use. When a user wants to become a member, they need to qualify for a free member test. They need to provide quality content on their profile, including videos, photos, and profile descriptions. Also, users will be able to activate their accounts by following the community policy for free members. Every gender option is available, but they need to check out whether the portal is available in their country or not. An individual must be at least 18 years of age when they are performing the login.
Is it Right to Consider a Secure Dating Platform?
There is no doubt in the fact that security is at its best on this portal. A user will not be going to face any kind of nuisance because the portal is following all the legal regulations governing International dating. They never provide the personal contact information of one member to another, and this is totally the choice of members whether they want to share their contact details with other individuals or not.
RELATED ARTICLE: Zoosk.com
Frequently Asked Questions
How to register on YourTravelMates.com?
There are two easy options to follow when joining YourTravelMates.com:
Register with your Facebook member account.
Fill out the registration form using your email.
To do so, just choose the option Sign in with Email and
hit the Create your Account button.
If this link is not visible then it's because you have already joined.
Can I register free on YourTravelMates.com?
Yes, you can join YourTravelMates.com with no charge at all.
How to Pay for YourTravelMates?
The pop up with payment details appears when you start chatting. It offers to buy 20, 160, or 1000 credits.
The rule is simple:
one message equals one credit, or one minute of live chat costs one credit as well.
One credit costs from 15 up to 60 cents depending on the offer.
What is Anti Scam policy on YourTravelMates.com?
Scammers are filtered by personal check of every account. It makes the platform a truly safe place for those who are looking for travel mates. YourTravelMates doesn't allow you to establish any contacts with members without buying credits. It protects existing users from scammers' attacks.
What is YourTravelMates.com?
YourTravelMates dating site is a place where a selection of beautiful pictures of ladies meets you on the home page.
They are smiling, happy and seem to be friendly.
What Payment method is used on YourTravelMates.com?
YourTravelMates accepts only credit cards.
How to delete YourTravelMates.com account?
The account deletion process is simple. Users who no longer wish to continue online dating through YourTravelMates can delete their profiles by contacting the YourTravelMates customer service team via a contact form found on the site.
Is YourTravelMates expensive?
In comparison to other providers YourTravelMates is expensive.
How to contact YourTravelMates support team?
You can contact YourTravelMates at any time via [email protected] with any questions or enquiries.
What are the details a person needs to provide for performing the login?
For performing the login user requires their Google account, and rest they need to follow the on-screen mentioned instructions.
Why Yourtravelmates.com is a secure platform to date online?
Yourtravelmates is a secure platform to date online because the developers are keeping each and every factor into consideration and let individuals connect with the people by having the same in mind. It is not important to share any personal details because they do not want to own any right over it.
Conclusion:
Finally, there is a platform that will help you to get a partner while traveling and partners with whom you can share your personal thing as well. It is the best online dating platform because Yourtravelmates.com has each and every feature with contributing to the same. Without wasting even a second, just be aware of it and perform the login.
Phone Number: +1-888-985-0020
Address: 10 Anson Road #05-17, International Plaza,
Singapore (079903)
Reviews
Another pointless dating app
Another pointless dating app. People supposedly match you then immediately disappear when you message. A total scam just trying to fleece you of your information and money.
Beware!!!
I used this site years ago and recently became a new paid subscriber. Boy has it changed! Has the entire world became greedy? I wasn't able to search on my own because every time I signed on I would get a prefab message that said "boost" yourself to be seen better. Better? What did I pay s 6 months subscription for site to control the narrative. And they offer no link on the site to contact them. What a rip off! I deleted my account, only having it for 2 weeks. Beware!!!
Yourtravelmates.com Stop dishonesty making money
I just read the reviews about this site on google and found out it received tons of reviews as a scam site to rip off people by stealing their money . They stole 40 dollars from me by one day by deploying an army of fake account holders . All here are paid scammers who pose as a relationship seeker to make them money or part of their fraudulent website who are getting paid for allowing them to use theirr photos. Don't think people are dumb. They find out one way or other. How come Tons of girls send me chat request every second ? How is it possible ? How come none of these girls want or share their personal info for other social media platforms but try to keep continuing conversation on this site only to rip our money off ? How come so many girls don't care about age and even want to get hooked up with a ninety year old man ? All of them are fake and con artist . Be careful, FBI is on a haunt for you . You will get caught sooner than later . Stop dishonesty making money.
BEWARE PEOPLE on Yourtravelmates
I registered because I am looking for a travel buddy… As soon as I looked through the profiles, I was chocked to see only super good-looking people with professional pictures made of them. I thought "where are the regular people?". I smelled a scam and made a search. THANK YOU FOR YOUR REVIEWS!!! I am going to delete my account immediately. BEWARE PEOPLE! And as someone said "SHAME ON YOU GOOGLE FOR SUPPORTING A SCAM!!!"
Yourtravelmates.com Definitely scammers
Definitely scammers, fake photos, fake profiles. They are all meant to keep you there.
I posted a negative review on Yourtravelmates
Funny enough, they have contacted me after I posted a negative review but they didn't bother to contact me (in 4 days now) about cancelling my membership. I have to mention that I have tried Messenger, WhatsApp, e-mail and "live chat". How come the process is so complicated? So TravelMates, if you are actually genuine, stop misleading and ripping off people and cancel their subscription when THEY want, not when YOU want!
Feels like a scam on Yourtravelmates
I was excited to pay my monthly subscription but within less than 24hrs my credit was exhausted. They kept asking for me to purchase more credit. I feel like I was ripped off and I would like a refund since am unable to chat with anyone. I emailed you countless times with no reply. Worse site ever. And it was expensive too. Only demanding for me payment unlike other sites where you can chat for free and their monthly subscription is monthly not 24hrs. Then I saw some members are curated and using the site for free. How come I subscribed and am unable to use the site for free. Feels like a scam.
Just another scam site Yourtravelmates
Just another scam site I signed up for the site a month ago and I get nothing but scam messages please save yourself money and time don't join the site.
Yourtravelmates.com is a fraud
Before running out of Credits the person using Yeimys pictures begged for a cactus emoji and It was a good thing I ran out in the nick of time. And on Flirt with just before the scammer logged out. There's a possibility they stole some credits from me. And I can't get them back. These people must be prosecuted and removed. Once Doctor Phil locates the victims from the videos or photos they would say they have been victimized themselves. For some reason the person using Yeimys profile logs out at 11:14 or 11;15pm. I'm tired of wasting my time talking to a random person behind the photo. Your Travel Mates Amolatina etc needs to be shut down as of now.
Scammer on Your Travel Mates
I ran out of Credits on Your Travel Mates and I get messages from Yeimy like how many profiles do you have then, on Flirt with she say Have you lost interest in me and on Datin.com she thinks I talk to other women on the site. I don't because I only get the 20 freeby credits and I don't want to go broke talking to a person who I can never see. I only talk to her about her long blonde hair and us having children together someday and her growing gray hair. Which she says I don't have gray hair then she says I do have some gray hair growing and she says I use semi permanent blonde hair dye band six weeks is perfect to dye my hair. On Your Travel Mates, Flirt with, Saying.com and Hotti are the only dating sites she is active on. She is not active on Amolatina and Datemyage anymore. She is still Active On Latamdate, Latin feels, Love Fort LaDate and Funchatt. Plus I know those scammers talk to more than one person behind your back. And the scammer on Your Travel Mates Hotti, Flirt With, and Saying.com doesn't like it when you have long messages basking a question or multiple questions. It because I don't want to spend money just to chat more than once. And I only leave the chat to keep an eye on my credit balance of my freeby credits.
Really bad experience Yourtravelmates.com
Hi I'm sorry but this is a really bad experience. This morning I was rip off 40 US for some words only. Not even monthly payment here! You can't leave your e-mail either. I talked to a man really looked swedish with a swedish name and living i Stockholm. That ok but he didn't even speak swedish. Come on this is a scam. All men have top situtations and photographed by professionals. How can I ever no that it's he is writing to me? I want my money back ASAP.
Avoid Yourtravelmates scam
You are buried in computer generated messages, then you chat for days, months and years but no girl would reveal any contact details. They just string you along! If you like girls from Eastern Europe J4LDating.com is the site that really stands out. I used to meet awesome girls there and I went on vacation with one of them. Anyway, they have real women and they are better than YourTravelMates. Don't get your hopes up because YourTravelMates girls flood you with chat requests and messages. This is how they make money. It's just their job. They don't have an intention to meet men and travel anywhere. I learned my fair share of lessons there. Do your wallet a favor and avoid this scam!
Nothing but a scam
I won't bother with describing worthlessness of their so-called "services", since that is more than adequately documented in the other reviews. What really pisses me off is that you can't access your account to delete it until you pay for a membership. Nothing but a scam.
I cancelled immediately!
I was in the Dating site for one month. In that time I was contacted by scammers and con artist. For every legit woman I got four scammers. They have fake profiles and fake pictures. There is no monitoring of the scammers. The customer service is terrible. When I contacted them I was told I am not forced to be on the site. I cancelled immediately!
My recommendation is signing up elsewhere
I signed up just before the Pandemic hit. Turns out they bill you in 6 month increments with no email reminder sent. I saw a bill go through from them as Sparks network and contacted them immediately to cancel my membership and issue a refund and they refuse. Their business practices are terrible, Instead of letting you opt out and refunding you, and preserving a business relationship, they take your money and run. My recommendation is signing up elsewhere. Stay away.
They would not give me a credit
I paid full price for one month so that I had the option of discontinuing. However I cancelled the day they billed me for another month and they would not give me a credit. Most of the men that contacted me were from miles away and the other ones had no pictures
I've been trying to cancel my account
I've been trying to cancel my account and it won't take my password, trying to reset it and it tells me it's incorrect. The call center is supposedly temporaily closed down. I have a new debit card and credit card number so I'm sure. They won't be will be able to charge my account.
Buyer Beware!
Lost count of how many bogus emails I received about "a friend, colleague, brother, whatever, of a member seeing my profile and wanted to connect. Blah, blah, blah… please send your contact info…!" and then all the emails from this site about profiles being reviewed and to please not contact any further… Not trustworthy by any means. No chance of getting a refund as there is No One to contact. Buyer Beware!
Please stay away
This is one of the most useless site defrauding people. Immediately you signed up you will start receiving messages upon messages and you will be told that you can't view the messages till you make payment., but once you make the payment, the messages will stop coming and you won't even get a reply from the people sending you messages. This site is fake and they are only after your money. Please stay away for your own good.
It is a fraud!
It is a fraud! They steal your money and put fake profiles in your email to make you think women want you but it's all a lead to nothing! They make icky people think fake beautiful women want them in order to keep them paying for their lying website.
Pathetic
Pathetic, charge you even if you cancel, don't even give a confirmation you cancelled, then when you explain you cancelled they say you haven't hence why you have been charged and you have no proof but the fact you pressed cancel on the app, pathetic, cancellation is hidden as well and hardly anyone uses it
What a load of rubbish
What a load of rubbish save your money, waste of time all fake profiles take your money and try to extort more or of you. Messaged loads of profiles never got a reply, load of crap. Keep well at from. Save you money and try more reputable sites.
Don't use them
Don't use them – you can't trust them
This site is FULL of scammers
This site is FULL of scammers and scammers. I can't even count how many scam messages I have received. The only reason I haven't deleted my account yet is because I undertake to report every scam / fraud message I receive.
It was ok
It was ok most of the guys are fake. Not what they say they are but thatbisbwirh any dating site. Metbsome men thatvwrre real over this dating on line crap
Met someone I like
Well I did go on 4 dates and met someone I like and now the process is too much for me to afford. And I may be moving across the country in 3 months anyway.
Site is a rippoff
Site is a rippoff…closed my account for no reason and stole my money….this site is horrible!
Fake profiles everywhere
Fake profiles everywhere, people supposedly looking at you and sending you smiles/hearts but that is just the system. What an absolute waste of time and money.
STAY AWAY
STAY AWAY. Preserve your emotions for something else.
Really sad to see
They changed how messaging worked and went full "woke" politically. Really sad to see them decline because I met one of my best girlfriends there like 8 years ago. It's just not as good of a site today.
Good experience
Good experience and easy way to follow. Cool video chat feature. This website really work. After looking for many App I found this.. Thanks
Thank you I've found the one
Thank you I've found the one, my best friend! The connection between us is electric, I never thought this would happen! He is the man I've been looking for my entire life! These are the first days of the rest of our lives!
We are happy together
I was in desperate need of love when it was so hard to find I came on this app and bought a subscription. In 1 month I found someone worth dying for, I have been with her for 6 months and we are happy together.
I met my husband on this site.
I met my husband on this site. It is wonderful to have him in my life. There is no one I would rather isolate with than my man
It is one of the best dating websites
It is one of the best dating websites. This site is for those people who feel unsafe in a dating site. It is not a large cost to date here. I hope customers will enjoy.
Was happy with the experience
Was happy with the experience. Most men were not looking for a relationship which I was. Most did not want to go on dates and they were more older then me.
I found someone
Right before I was going to delete my account. I found someone who understands me and doesn't judge me and we hit it off and I really like this woman.
A lot of beautiful women
A lot of beautiful women. They all are eager to answer. It was a pleasant change of pace. I'm an avid user of dating sites. Often, women there aren`t very welcoming. Here, I was able to make a couple of great acquaintances and speak to many real women. Not a single fake account. I've been to many other sites where fakes are quite common. Guess, I've been lucky with this Dating site. They have that rough verification process and it works.
The best thing i ever did
The best thing i ever did…and found my princess.
It is neat and clear
The website has many positive points. It is neat and clear, the navigation is proper, and, there are plenty of profiles to choose from. People on this website are nice, and friendly. I have been on several dates through this website, and, all have been great.
I really like this app
I really like this app and it really works and I had a very good time on here and there are many different things to do with this app
Greatest experience
Did not know what I was looking for at first and canceled a couple of times, then when i decided to try a little longer, I met nice girl and we have had the greatest experience of getting to know one another. She is like no other woman I have met.
This site is totally scam
This site is totally scam. It charges your credit card without any authorization. Make sure steer away from this guys!!
Not good website for friends or dating
Not good website for friends or dating, some scammers there, most of the ladies do not reply. and most of the ladies block guys for different reasons for which I have yet to figure out. Its a waste of time for guys I have kept a profile there for years now and have yet to meet a friendly lady.
Be very careful!
Be very careful! They are misleading from the beginning. What you request when you originally sign up for is not what you get.
This is a horrible site
This is a horrible site. I would recommend any other site over this one. Plus the customer service is terrible. They need to learn how to respect there customers!!!
Ripoffs
Well majority of the girls on the side were scammers from different locations. All they wanted was money telling you a sad story. It just was a joke. It's not just this one. They were all similar ripoffs
Don't sign it please.
This is a scam site, they start sending you messages with people liking you and messaging you after the subscription is ended, to renew the subscription. Total scam!!! Don't sign it please.
I would not recommend this site
Good luck but I would not recommend this site.
99% are fake accounts
they disabled username search knowing 99% are fake accounts, to me this is immoral to make you pay for an upgrade just to see who lied about liking you
I will NEVER use a dating app EVER again!!
I will NEVER use a dating app EVER again!!
It was TERRIBLE
It was TERRIBLE. AND to top it all off
DO NOT JOIN!
Unless you live in a big city and are under the age of 50 don't buy this into this site!!! DO NOT JOIN!