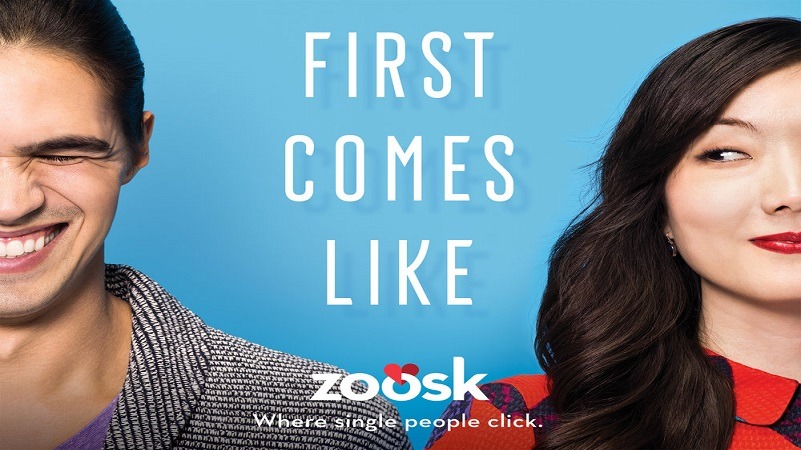 Zoosk.com began as a Facebook application in December 2007, and now it's a global dating site with millions of registered users to its name. Zoosk is a unique dating company on a mission to seamlessly integrate social networking and online dating. The dating website and app provide singles with an intuitive dating experience with affordable and customizable communication tools at their disposal. Zoosk attracts a fairly young crowd of singles looking for casual dates and deep relationships in a fun online environment.

The Dating Website – Zoosk.com
One major part of Zoosk's appeal is its simplistic, straightforward approach to finding people on the app. You don't have to submit to the Internet equivalent of a psychological examination or fiddle with the interface for hours to get the site working. There's also no home screen, home feed, or any other source of abundant information that falls on you all at once. When you're beginning your Zoosk.com section. Rather, the site and app feature clear-cut sections that display individual profiles one by one. No matter which part of the site's functionality you're using. With one profile in front of you at all times, there's no confusion about what you're doing. And no irrelevant stuff to distract you from the task at hand. But, despite this focused approach, Zoosk is really a chill, low-pressure experience.
Navigating between profiles is quick and seamless. So there's no need to take immediate action. When you see an appealing person unless you're playing Carousel, which is the site's hot-or-not game.
RELATED ARTICLE: CharmDate.com
Frequently Asked Questions
How do you find someone on Zoosk.com?
After creating your Zoosk account you should be able to use the search feature to find different people according to different criteria that you set up in your search.
Can you message on Zoosk.com for free?
No you can't read the message for free. If you want to read or send any messages, you're going to have to pay for it.
How can I request the deletion of my data from Zoosk.com?
If you'd like to delete your data from Zoosk, send a request to Zoosk Customer Support team at [email protected]
How to update my information on Zoosk.com?
Open your web browser,
go to zoosk.com, and log in to your Zoosk account.
Click on your Zoosk display name in the top right corner of your screen.
Select My Profile.
This will take you to your profile where you can view and change your photos, basic information, story, perfect match, and ideal date by clicking the Edit or Add link next to the information you'd like to update.
Is Zoosk.com have a free trial?
Joining is free for a Zoosk subscription but there still are some limitations to the free version. Zoosk provides a free 30-day trial.
How much cost of Zoosk.com membership?
Monthly prices listed for a Zoosk subscription is
$12.49/mo for six months.
$19.98/mo for three months.
$29.95/mo for one month.
Is Zoosk.com worth it?
Modern days online dating website is terrible so everyone is very scared to join a dating site. Zoosk is an excellent choice for modern singles who looking for serious relationships. Most profiles are straightforward and complete, making it easy for you to determine whether the account you are viewing is a match or not.
Why we join Zoosk.com?
Zoosk is far more efficient! The logical way to sort and meet others you might have an interest in. A good percentage of the member base is active on the site. Members often use the site to look for serious dating and long-term relationships. The matchmaking functionality is excellent.
What are the pros and cons of Zoosk.com?
Pros
40 million members worldwide
Most members are within the age range of 25-34
Search by age, location, religion, education, height, body type, and more.
Send a like or smile to someone for free.
Cons
Zoosk is very expensive
Zoosk charges a one-time activation fee of $24.95 in addition to the subscription cost.
The Auto-Reply system can mislead users
How is Zoosk.com different from other dating sites?
Zoosk is one of the most popular dating sites in the world. It has a clean design that makes the site really easy to use and interact with other members. The matchmaker functionality that Zoosk offers on its dating platform is different from other dating sites.
Phone Number: +1-888-939-6675
Address: 989 Market Street,
San Francisco CA, 94103, US
Reviews
Site is full of fake profiles
Site is full of fake profiles. Many fake likes and conversations. You can tell the conversation isn't real. Answers given either don't make sense or are intentionally vague and provide zero depth and go nowhere. If you are discerning about your potential match, I would avoid this site. Not saying there isn't romance to be had on there, but it's not even close to the way commercials represent this site.
This site feeds you
This site feeds you, people who appeal to your selection, once you communicate with them on a free messaging basis, you lose contact, then you pay and their profile is no longer found. This has happened a number of times, I initially gave it just a fluke chance, but it has happened more than once, in addition, I have given my preference and repeatedly my box is filled with those outside of my preference. I have more than just an inkling this is the method of which they work. They should not be allowed to charge for their services because it is never up to par. Basically they sucker you in then charge you and want to keep charging you annually if you don't cancel, it's a gimmick.
The absolute worst experiences
Matched with people outside my age range, education, income, and common interests. I had to block 3 of them because of rude messages. I had messages from guys. They were very inappropriate. One guy was looking for a woman to present information at seminars on sexual compatibility or so he said. Another one was a convicted felon found guilty twice with 2 different women of domestic violence, stalking, and strangulation. A couple more were Trump supporters who harassed me after I said I was not interested. The absolute worst experiences I've ever had with dating.
This site has no security
This site has no security, there are so many fake profiles and scammers. I personally was scammed 4 times on this site. When they are going to Europe for business and need money, RED FLAGS. I've never had so many issues with hacking my profile, trying to get my credit card number. But the scariest is when you are stalked, police have to be called and Our Time does nothing because it's against their policy. Never, ever ever again!!!!
Refund policy is a rip off
Their cancellation and refund policy is a rip off. Get ready to jump through fire if you want to cancel. Obviously the reason why so many people want to leave is because this site is inefficient and useless. This site didn't work out for me and many other people according to the reviews. I suspect they actually don't aim at providing any dating services. They are focused on conning you out of your hard-earned money by overcharging you and keeping you on automatic renewals until you notice it and start struggling to stop them from taking your money with impunity.
The company is corrupt.
DO NOT SIGN UP FOR THIS SITE. My account was hacked from within. Someone sent messages to all my matches that was not from me. I contacted Customer Care and they confirmed that a third party hacked my account but did not take responsibility. They said they have a secure site but it is not. How do I know? One day, a match is from one city and the next day that same match is from another city. The hacker took my NC location and changed it to Ohio. Please stay away from this site. The company is corrupt.
Service is ten times worse
This company is nothing more than a common criminal taking your money. The site/app quality is $#*! and the service is ten times worse – if you can manage to get a hold of anyone.
Terrible reviews on here.
Have not been able to get on the site for a few days….says error, tried logging off and logging back on again. And of course because I cannot get into it I cannot ask for help. Get your act together. Terrible reviews on here.
Soo many fake profiles
Soo many fake profiles, horrible horrible, Cant believe this is legal, do not buy a subscription, its a scam. I did, got hundreds of fake msg not one response from any of them, computer generated messages, always the same messages. Unbelievable unbelievable, need a class action lawsuit and shut them down!
Ripoffs
Well majority of the girls on the side were scammers from different locations. All they wanted was money telling you a sad story. It just was a joke. It's not just this one. They were all similar ripoffs
Would give no star
Would give no star if I could met the most abusive guys ever on here and turns out if is rife for peadophiles too you only have to go onto Google do your research type in things like peadophiles ect it'll all come up. Crap sure dead abuse guys you report them and somehow their profile stays up. Absolutely no care it safety for the genuine ppl on there and lots of young scheme mum's on there with no common sense to look after their kids first! Shocking and vile like something the sun newspaper would come up with
Save your money
Fake profiles and fake likes out of 100+ likes not one person returned a message. Save your money and try another site this one is complete BS
Don't waste time
Don't waste time looking for a real connection here with a selfless person.
Never pay for a subscription
Never pay for a subscription or you will regret it!
Im very happy
Im very happy with the one I have met we have become a couple now I thought things would not work and and I would not meet anyone until I met arech Im very thankful I met him
It took a long time
It took a long time to meet someone. Three yrs. They live in another city. Don't know if it will work out or not but he is a nice man and he loves me.
Poor matches
All the service they provide is throwing poor matches at you with no regard to your preferences or search criteria. But you can be assured that they will charge you more than you expect or authorize.
Horrible dating service
Horrible dating service, horrible customer service, would never use again.
This site is not worth
This site is not worth the money they want you to pay for membership. There are too many fake profiles and nearly no appropriate matches.
Very friendly customer supports
I do like easy usability on the website. Also, very friendly customer supports who was very tolerant to me and my issues
Great service
Great service continual communications easy to use I had many conversations and was near to giving the whole thing a miss then I started chatting with this lady and from then on our friendship has grown to a blossoming relationship
I married my sweetheart
I married my sweetheart, a man I would never had met if this site did not exist. Love this site. Thank you thank you thank you!
Gave me confidence
Gave me confidence to make contact with people I would not have been able to meet otherwise. Lots of fun getting back out there.
Meet the girl of my dreams
Meet the girl of my dreams. Anna is the love of my life and am so happy I met her on this site. Never been happier in my life!
It was recommended
It was recommended to me as a dating site that should meet my needs, & it did. I met my partner on this site after having the opportunity to meet quite a few guys.
Real profiles
There are so many online dating services, that it is easy to get lost. I'd say this service Dating.com is one of my favorites, there are many real profiles and the membership is not super crazy expensive.
I highly liked this website
I highly liked this website, very user friendly. It has lots of people to choose from. They give you tons of options to pick from.
There is a fairly extensive
There is a fairly extensive search function that lets you filter your results to save time and effort. It makes it very easy to find hot singles in your area that match your specific criteria. There are a lot of different filters that you can use to do this, including age, gender, orientation.
Very easy to use and fun site
Very easy to use and fun site. Lots of women I'm my age group. Easy to put lots of pictures on the site. The women range from professional to very educated. The site is easy reach out to them and I like the security system in place for imposters.
This is actually a good place
This is actually a good place to hang out when you don't have better plans for the evening or weekend, or maybe the whole week.
This site really can work for you!
Be open and be honest, don't jump in and listen to what they have to say. See if there is a connection. This site really can work for you!
I want my money back!
Second dating app I've used and it is simply a confusing money-making ripoff. The messaging within the app appears to be one way only. I liked someone as was told they liked me. I messaged them and did not receive a reply. I want my money back!
Total scam
All messages are computer generated. I even deleted my profile and still received emails that so-and-so was looking at my profile or had sent me an email. Total scam.
Site is a rippoff
Site is a rippoff…closed my account for no reason and stole my money….this site is horrible!
WARNING DONT GO ON HERE
They pay people to be fake user to get your info ,,dont go on here,,,,WARNING DONT GO ON HERE
Wasted my time and money on this
It seems like a lot of weirdos and scammers are on this site. Very sad I wasted my time and money on this.
Don't do it!
Warning to other users and this website, if anyone ask you for money. Don't do it!
Its Scam
If you're seriously looking for someone "Run Forest Run" from this dating site! Every negative thing previously written is true; how the government hadn't shut this site down is a mystery? I compare it with a Nigerian scam from the "Barrister" wanting money?
More than half of the women are scammers
More than half of the women are scammers. I live in the New England area and I'm amazed at how many of these women are stuck up. They either don't reply or block you.. Don't waste your time.
Careful guys!
I rise early very early and amazingly I get all these alleged beautiful pictures of Women from magazines. The message 99% is the same Hey there:) Baloney, she made you a favorite, if you wait to long they mysteriously disappear. Biggest scam ever I got on here for fun and didn't realize I was visiting a scam porn site Yep. Careful guys!